Public Works Department

330 Bennett Street, Livingston MT 59047
Shannon Holmes, Public Works Director 406-222-5667

Each Livingston Resident experiences Public Works Services every day, whether drinking water, flushing a toilet or driving on the streets. Public Works helps make the city beautiful, livable and safe for all residents.
2019 Spring Flyer

The 2019 Spring Flyer and Street Sweeping Schedule will be sent out to all residents in the first week of April. For those of you who may not have received it, you can view it below. The street sweeping schedule is available to view on the Street Department page.
Spring Flyer 2019

Street Sweeping

Street Sweeping will resume Monday, June 1, 2019. Set a reminder on your phone or leave yourself a note to move those vehicles. Violators will be ticketed, per City Ordinance No. 2050.
Street Sweeping Schedule
Exciting things are happening in our Downtown!
Stay informed here:
improvelivingston.com

Map of the Downtown area being worked on in 2019: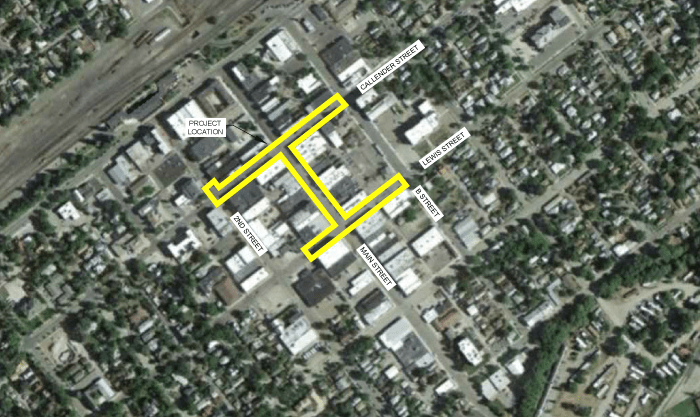 Office Hours
Monday - Friday
7:00 a.m. - 12:00 p.m.
1:00 p.m. - 4:00 p.m.